They're here!!! After two whole months of waiting, our packages from Pottery Barn finally made their way to our home. Back in March, my brother visited and helped us out with several of our spring home remodeling projects. One of our favorites was the move of our poorly placed kitchen island. We changed out the countertop and made it into a bar. We have been searching for the perfect bar stools ever since!
We finally decided on the Benjamin Barstools from Pottery Barn after bringing several bar stools home from Home Goods only to find they were too tall or too big for our countertop. Unfortunately, our Benjamin Barstools were back-ordered for two months! Unexpectedly, my husband received an email from Pottery Barn yesterday morning announcing their arrival that afternoon! It felt like Christmas. I couldn't wait for the big, brown truck to stop at our house!
When they arrived, they came in two heavy, extra large boxes. Thankfully, my husband was home to help move them into the house. We immediately opened them up and assembled them within minutes.
Our PB Benjamin Barstools are perfect for our vintage, re-purposed decor. Since they are made out of iron, I believe they will last quite a long time. I ordered a few classic chair cushions from Pottery Barn with a burlap look and feel to them. They will make our bar stools a bit more comfortable to sit on as the kitchen seems to be the area where friends and family congregate the longest while visiting.
Ah, fall. I am in love! Having just returned from a week in New England, I can not get enough of spiced apple cider, riding boots and all things pumpkin. By the way, where in the world did September go?! October is racing past me and there are so many wonderful events coming up on my calendar.
I'm trying to switch my brain from vacation mode to business mode. Shine with Jennifer Leigh Photography will be a vendor at an upcoming fair in Virginia Beach next month. I have so many DIY projects to complete beforehand. One of which, involves one of my favorite things…chevron!!
This week, I will be working on a special DIY project that is going to make my booth super feminine and chic! The gorgeous fabric you see below is from an online vendor I found, Carousel Designs. Carousel sells baby bedding sets. Now don't go making assumptions! There aren't any baby bumps on the horizon yet for this chic. Carousel Designs sells THE most beautiful fabrics. Thank goodness I had an exact fabric in mind; otherwise, I would never have been able to decide!
It's Tuesday and absolutely gorgeous here in Chesapeake, Virginia. The weight of the heavy humidity is gone and I feel refreshed and motivated to take on the world! I was out on Pinterest this morning looking for a bit of DIY inspiration. Here are my top 5 projects for DIY Tuesday!
1. DIY Photo Lanterns
Image Source: decor8blog
These gorgeous lanterns, by decor8blog, are so simple! In just 4 steps, you too can have these lanterns for your next outdoor party or wedding reception. All you need for this project is:
Store bought lanterns (glass votives are an alternative)
Spray adhesive (suitable for paper and glass)
Vellum
Digital images
Printer
Battery operated tea lights
Scissors/Paper cutter
2. Home Decor: Re-purposed Maps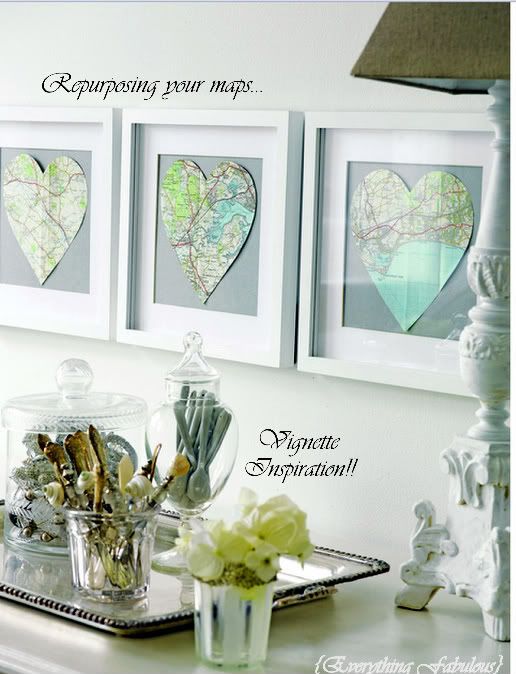 Image Source: EverythingFab
As the years go by, it's important to remember those special milestones and memories from your relationship. I love how these maps incorporate where you met, where you were married and where you honeymooned! Find a few maps and your choice or frames!
It is the little details that make an event perfect. When planning your wedding reception, the creative options for place cards and holders are infinite. I have vineyards on the brain as I will be visiting The Williamsburg Winery next week. What's more perfect than wine cork place card holders and vintage place cards for a vineyard wedding or event? Below are my 5 easy steps to make your own!
As Memorial Day approaches, so does my collaborative stylized engagement photo shoot with Aleen Floral Design at The Williamsburg Winery. This is such an exciting time. I have never had a shoot at a vineyard and this one is going to be quite special. Karen, from Aleen, and I both decided we would make burlap signage for our businesses to be featured in a few images as a soft marketing approach. I loved how my burlap sign came out and I plan to make many more! For brides looking to make a "thank you", "love" or "Mr. & Mrs" sign for their engagement or wedding portraits, this would be a fantastic idea. The vintage look and feel is perfect for any outdoor wedding or event! Here is my step by step burlap banner tutorial so you can make your own.
Last night my husband and I had one of our weekly date nights. Every week, no matter how busy and chaotic life is, we take one night to spend together. Most of the time, we visit our favorite local café, Café Moka. Other times, we choose to take it easy and just stay home to catch up on our favorite shows we have missed. This week, my husband took me thrifting.
When we were first married, a whole year ago, we would visit the local thrift stores regularly. I was interested in DIY projects and was always looking for something used with "potential". Our house was a little empty as we both did not have much for furniture and it was fun to find pieces to add our personality too. However, after the first few months of marriage, the busyness of life took over and there wasn't as much time for the DIY projects.
Two months ago, I reconnected with an old classmate from high school. She lives in Williamsburg and owns her own floral design business. We have been meeting and discussing the event industry, marketing our businesses, Jesus and life. We are currently working on a project together… a photo shoot at a local vineyard. This week we met to discuss our concept, props, clothing, etc. We will be adding a touch of vintage to the shoot, which I am so excited about!
So, back to thrifting…With the shoot coming up next month, I am in need of a few vintage pieces of furniture and props. I have a DIY project in store for this shoot and I need just the right piece. Last night, we visited four of the local thrift stores: Goodwill, CHKD, Salvation Army and Habitat for Humanity ReStore. Unfortunately, I walked away without anything on my list, but I'm not giving up! This just means I will have the chance to get back out there and look again. Any excuse to add a little thrifting back into my life.
I'd Rather Be Thrifting by Ashley G
$38.00 on Etsy for a 13" x 19" print